The NeoBB® is a non-explosive WL and slickline tool that allows cement slurry and bridging material to be dumped from a gravity bailer system. The NeoBB is attached to the bottom gravity bailer and is actuated by the application of DC power sent down the WL or from a downhole slickline power supply. Actuation requires VDC @ 450-500 milliamps. Standard, HPHT, and UHP/UHT Service Models are available for sweet and sour service conditions.
NeoBailerBottom (NeoBB) Bulletin
The NeoBBs can be shipped in a protective case as shown below, available for sales and rentals.
This case can include the primary and backup NeoBBs, along with the necessary accessories, such as the hydraulic pump, hydraulic fluid, redress kits, etc.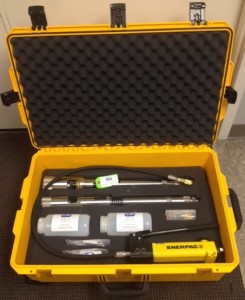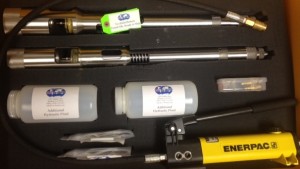 NeoProducts® is proud to introduce the S-f NeoBB, an enhanced version of our conventional NeoBB models that have been run in the hole tens of thousands of times. They are used to dump; cement slurries, epoxies, solvents, acids, sand, treatment chemicals, aggregates, etc. They provide the shortest possible turnaround times between bailer runs, therein reducing project times. S-f NeoBBs eliminate the logistical and operational burdens related to explosives and provide safer work places. All things considered, using S-f NeoBBs will save considerable time and money at the wellsite.
S-f NeoBBs can convert single-operation toolstrings into multi-functional toolstrings, therein reducing the number of runs in the hole. S-f NeoBBs can selectively direct electric power to other devices in the same WL toolstring.
S-f NeoBBs make possible new novel ways to save time and money at the wellsite.
Select-fire NeoBailerBottom (S-f NeoBB) Bulletin
Now offering Flex Bailer Joints for dump bailing operations: 
Flex Bailer Bulletin